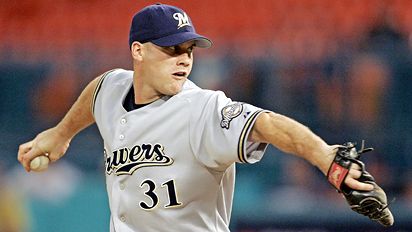 I know for certain that I'm in the minority with this belief -- but I was absolutely crushed when the Jays dealt Dave Bush to the Brewers a little over two years ago. Yes, it was heavensent that the Jays declined shipping Dustin McGowan for Overbay, and instead went with Bush & Jackson, but Bushy was a guy I thought was one of the most underrated arms in the whole game.
He put up really great peripherals in Milwaukee in 2006, and there was great optimism that he'd continue to ascent to his calling of a mid rotation pitcher in 2007, but the wheels came off, and now he's fighting tooth and nail to win a spot in a jam packed Milwaukee rotation arms race.
It seems foolish to believe that Toronto would re-unite Gibby with one of his detractors, and rarely are players traded away, then re-acquired in a trade a few years later. But the Jays seemingly need another starter to add to the mix... someone to go in if Litsch falters, if one of the top four goes down via injury. There doesn't seem to be much in the well right now, and Bush's price is now at an alltime low.
It's a fit. Gibby needs some fire put back into his belly. He needs an agitator. He needs Dave Bush.
Starting to Unravel

First Janssen gone for the year, and now
BJ appears to be having some hiccups
in his return.
Stoeten cautions everyone
not to react to this news similar to chicken little, but things are definitely not looking great. Despite the glowing reviews of Brandon League, the Hawaiian flamethrower is only topping out at around 94mph (as opposed to 2 years ago when he'd consistently throw 97-98mph). Add that to Accardo's post allstar break swoon, all of a sudden, the bullpen no longer looks that pristine.
Longest Draft Ever...
Mathis nabbed after the Angels waited weeks and weeks
, seeing guys like Screech Powers drafted in the 214th round, and Bobby Rayburn taken in the 268th round.